Out of Service Notice for Visitors Due to Floating Berth Construction
Dear Visitors,
Due to the construction of a floating berth at our marina, visitor moorings will be out of service as follows. We deeply apologize for any inconvenience caused during the construction period.
Sincerely, Hiroshima Kanon Marina
Note:
-Construction area and details: Removal and construction of the floating berth No.2
-Mooring place to be out of service: All floating berth
-Out-of-service period: January 1, 2022, to the end of June 2023, with the possibility of an extension.
Flow for using visitor mooring place
Apply online
Reply from Marina Instruction about mooring place
You can download necessary documents such as customs clearance and be prepared by the scheduled date. You can even fill up those at Marina

After arrival you need to submit the following form.
Please download from the following.

Customs Form
Contact for port entry: E-Mail or TEL to Marina
Mooring
Information/payment at the club house
Custom clearance procedure
Example of instructions about mooring place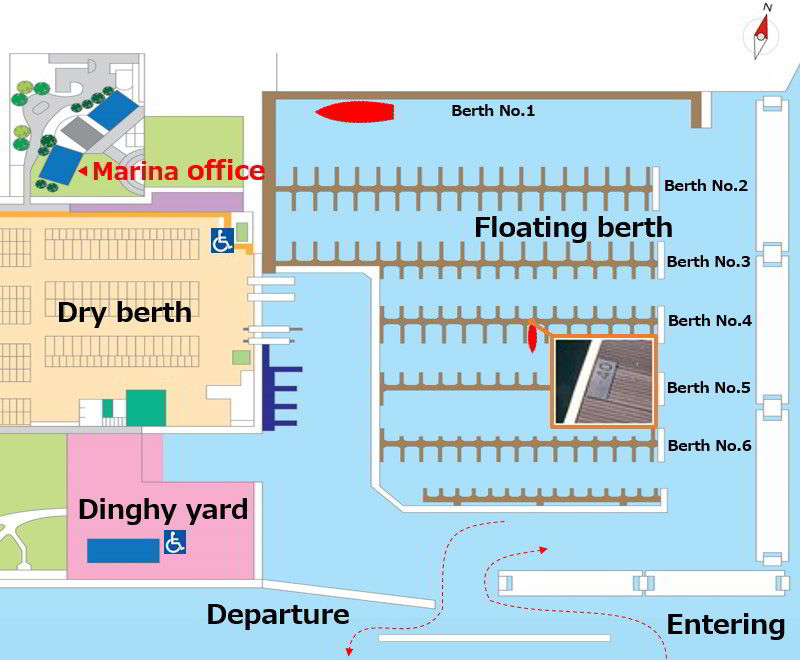 Mooring Guidance
The vessels are generally guided to Berth No.1, but at times may be guided to other berths (Berth No.2 to 5).
Guidance example
Please moor your vessel at the end on the west side of Berth No.1 or at Pier 40 of Berth No.4. Complete the post-mooring procedures at the Marina Office.
NOTICE
To ship owner
When you have put into this port, please make sure to inform your entrance into the port and submit your clearance inward documents (general declaration and crew list etc.) to Customs immediately.
To inform, please contact us by any way of following:
Hiroshima Branch Customs
Failure to submit those documents to Customs may cause you punishment based on the law of Japanese Government.
Hiroshima Branch Customs